Saturday, July 7, 2012
| | |
| --- | --- |
| | 2012 Military Spouse Penpal Exchange |
I remember how
ecstatic
I was to receive mail when I was younger. Whether it was an advertisement, a postcard appointment reminder for the dentist, or a birthday card, I was always eager to see what the mail man would drop off in our box each day. I remember having penpals when I was younger - friends I had met at church or horse camp, cousins whom I'd only met a handful of times due to them residing in distant lands, or penpals that I had acquired through school somehow. My excitement for mail began to fade when 99.9% of what I would receive turned into college advertisements -I swear I must have gotten a postcard from every college in the country, some numerous times over. My love for the mail man hit an all time record high when Hubby was at basic. Those letters could turn my day from a 0 on the happiness scale to an infinity and beyond (no exaggerating, I promise). But, alas, now that I'm an adult (boy it feels funny saying that word in relation to myself...adult...hehe), I really do
not
enjoy checking the mail box. Sure, it is a bright spot in my day when I have nothing better to do but wait on the mail man's arrival (or if I am expecting a package, card, product for review, or coupon), but typically the articles of mail I am greeted with make me wish I would have stayed inside and hidden under the kitchen table. Bills. Insurance information. Bank statements. Are you asleep yet? I'm feeling a tad drowsy just thinking about it.
Today's technology seems to have brushed snail mail under the rug. Although I am convinced that snail mail will never
completely
disappear (unless we somehow come up with a way to teleport packages), it deeply saddens me to think that my future children may not ever get the chance to partake in having penpals or the joy or receiving a handwritten, heartfelt letter from someone. There is something almost
magical
about receiving a handwritten letter: Not only is it more personable than a casual text or e-mail, but it is so much more meaningful to know that the sender took the time to hand write every letter of every word of that special note. They carefully articulated each sentence and crafted the letter in their very own, one of a kind handwriting.
So here's what I'm going to do about it (and also in celebration of my 200th post! Partayyyy!!):
*NOTE: YOU DO NOT HAVE TO BE A MILITARY SPOUSE TO PARTICIPATE IN THIS EXCHANGE. IF YOU ARE A SIGNIFICANT OTHER OR FAMILY MEMBER, YOU ARE INCLUDED IN THIS! IF YOU HAVE ANY OTHER RELATION TO THE MILITARY, PLEASE USE YOUR DISCRETION IN DECIDING WHETHER OR NOT IT WOULD BE FIT FOR YOU TO PARTICIPATE. THANK YOU!
Here are the rules:
1. Click
HERE
to sign up by
July 30, 2012
. The only information you will need to provide is your name and an e-mail address.
2. Anxiously await the arrival of July 31, when you will receive an e-mail from Elfster with the name and e-mail of your new Milspouse penpal. Once you have received their name and e-mail, you can then obtain their address and any other information you may need.
3. Write an introductory letter or postcard about yourself.
4. Slap on a stamp and put 'er in the mailbox by August 6, 2012.
5. Take a picture of your letter and blog about it! Come back and link up - I will post the link here when the time gets closer.
6. Copy and paste the badge to help spread the word! The more participants we have, the more fun it will be!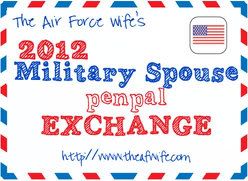 Questions or comments? Please feel free to ask below!
I would like to give credit to Jessica Lynn Writes for the basic idea of this post (she had a postcard exchange back in 2010 and I used her post as the basic structure for this post.)